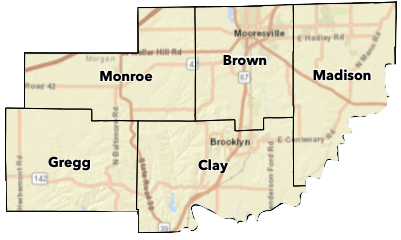 At Hill Water Corporation, we are in a perpetual process of improvement .
Every day, we work to find new ways to provide exceptional service and value.
Hill Water Corporation is a member owned, NFP, cooperative water utility. Founded in 1971, Hill serves over 3,000 member users in the Morgan County townships of Brown, Clay, Madison, and Monroe.  Hill also provides water utility service to the southern residential and commercial/industrial area to the Town of Mooresville. 
Our minimum monthly water bill (up to 2,000 gallons) is only $12.98, and our average monthly water bill (5,000 gallons) is an affordable $30.29. 
To learn more about service availability, or to subscribe for service, please call our office at 317-831-1675. 
Frequently Asked Questions